TracFone Wireless is America's number 1 prepaid wireless provider. Instead of building its own cellular towers, which would take lots of time and money, TracFone is a Mobile Network Virtual Operator (MVNO) and as such it uses and resells networks from other carriers. In this article, you can find out all there is to know about the network TracFone uses, its coverage area, and more.
Network Towers That TracFone Use
All MVNOs use either Verizon, AT&T, T-Mobile, or Sprint's cellular towers and networks. And while most MVNOs use the network of just one of the 'big four' carriers, TracFone is among the few lucky prepaid MVNOs that have an agreement with all four major carriers, and as such, it runs on all of the – Verizon, AT&T, T-Mobile, and Sprint.
The fact that TracFone uses all the major networks is one of the company's biggest advantages and selling points.
The thing that is important to understand is that each TracFone phone is tuned to a specific network and each only gets access to one of those networks. Which network a user gets access to depends on where he or she lives, as different networks have different coverage in different parts of the country, and on the device itself. If a customer decides to bring his or her own phone to TracFone, his or her network will be determined by which carrier it's coming from.
For example, if you used to be a Verizon customer and have one of their devices, transferring to TracFone will allow you to keep your phone, keep your phone number, and keep your network. A Verizon device uses CDMA technology and it may even be locked to Verizon's network. As such, it will only work on Verizon's network. Switching to TracFone will allow you to stay on that network. You can check your phone's compatibility at "tracfone.com/keep-your-own-phone".
See more : Tracfone Bring Your Own Phone Without Any Contracts
The Advantage Of TracFone Network Towers Coverage
Because TracFone has the privilege to use all four of the largest and most dependable networks and can offer their customers the very best network to fit their needs (depending on where they live and which device they use), TracFone's combined network and coverage is excellent. As each customer only gets access to one of the four major networks; we have to look at each one of them individually to determine how reliable they are.
Verizon : In terms of coverage area, Verizon is the most widely spread network in the U.S. It has more than 70% 4G coverage and it provides network service even to the remotest areas of the country. If you live in rural region's you may want to opt for Verizon's network.
AT&T : AT&T has the second largest 4G coverage area in the country. Its 4G network covers 68% of the country.
T-Mobile : Since the Sprint and T-Mobile merger in 2020, the new T-Mobile offers a 62% 4G coverage, which is distributed in a manner that reaches 99% of the population. In addition, they offer the largest 5G coverage in the U.S.
Sprint : Sprint used to cover the smallest percentage of the country (only 27%), however, since it has joined powers with T-Mobile, they now have an impressive 4G coverage and the best combined 5G coverage in the country.
The quality of TracFone Towers coverage depends on the network a customer uses; which is determined by their device and living area. As the coverage of the four major carriers is unevenly distributed throughout the country; it's important to check which network has the best coverage in the area where you live, before committing to one. Luckily, TracFone customers don't have to compare the coverage maps and check the networks themselves. Instead, they can trust a TracFone expert to evaluate which one of the four major networks listed above will work best for you.
TracFone Towers Coverage Area
As TracFone has access to all the major networks and their towers, it theoretically covers the whole country (roughly over 99% of the entire population). However, as each consumer only gets access to one of the four major networks, the coverage area of each individual customer is the same as the coverage area of the single carrier he or she uses.
Coverage maps of the four (officially there are three) major carriers:
Verizon: verizon.com/coverage-map
T-Mobile: t-mobile.com/coverage/coverage-map
AT&T: att.com/maps/wireless-coverage.html
TracFone offers nationwide coverage and their service plans are compatible with both 4G LTE and 5G networks. For †5G nationwide access, you will need a 5G-capable device. If you are new to TracFone, you can simply enter your ZIP code to find out which network has the best coverage in your area. If you are an existing customer, on the other hand, you can enter your TracFone IMEI or phone number to check the coverage area.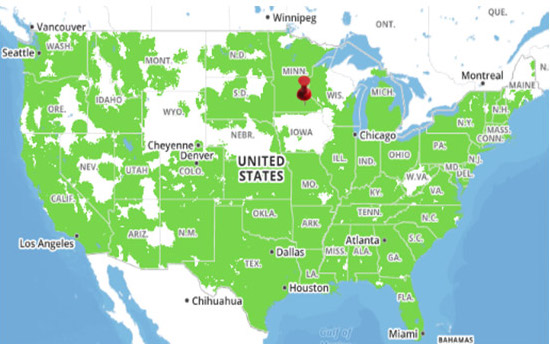 TracFone will do its best to provide each customer with the network that has the best coverage in his or her area and one that is compatible with your phone. As such, when it comes to coverage, with TracFone you're in the best hands!
TracFone Towers Coverage Compare With Other Carriers
TracFone's coverage can roughly define as the full sum of all the four major carriers. Of course, for each individual consumer, it is the same as each individual network he or she uses. Here you can see how can the four (or three) major networks compare with each other.
Best 4G coverage in the U.S. before the T-Mobile – Sprint merger:
Verizon: 70% 4G coverage
T-Mobile: 59% 4G coverage
AT&T: 58% 4G coverage
Sprint: 27% 4G coverage
Best 4G coverage in the U.S. after the T-Mobile – Sprint merger:
Verizon: 70% 4G coverage
AT&T: 68% 4G coverage
T-Mobile: 62% 4G coverage (99% of the population)
Best 5G coverage in the U.S.:
T-Mobile: 36.7% 5G coverage (80% of the population)
AT&T: 15.9% 5G coverage
Verizon: 10.9% 5G coverage
Overall best coverage:
Verizon
T-Mobile
AT&T
To find the network that has the best coverage in your area, you can simply go to "tracfone.com/coverage/check" and enter your ZIP code. The system will inform you which carrier will work the best for you.
See more : How Does Tracfone Work ?
What Other Carriers Use The Same (TracFone) Network
TracFone is one of the very few MVNOs that are lucky enough to have access to cellular towers of all the four major networks – Verizon, AT&T, T-Mobile, and Sprint. Other MVNOs that run on all four major networks include:
Straight Talk
Net10
Red Pocket
Way to Know Which Carrier Uses TracFone Network
Sometimes it's important to know which network your phone uses, as it can help you set realistic coverage expectations when you go on a road trip. Furthermore, if you decide to move to another area or state, you may also need to check the coverage of your current network in the new area and if another carrier offers better coverage in that area, you may want to consider choosing a phone that works on that carrier's network.
If you already own a TracFone device and wish to determine which network it uses, there are several ways to do so:
Send yourself a message: Sending a message to your email address may help you find out which carrier your phone uses. The name of the carrier may appear in the 'from' address in the message, the carrier's logo may display at the bottom of the message, or you can check the headers on your email to see which servers handled it. In Gmail, click the three-dot 'More' menu at the top right corner and press 'See original'. It will show you a whole lot of gibberish, but near the top of the screen, you should be able to see the server's and network's name in the form of mail.txt.carriername.com.
Use an online lookup tool: Open your browser and search for 'phone carrier lookup by number' or something similar. It will give you a bunch of online lookup services and tools. These tools allow you to look up your carrier by your phone number, SIM card number, or your IMEI.
Get a hint from your old carrier: If you brought your own phone to TracFone and if your previous carrier was either one of the big four; you can safely assume that TracFone enables you to stay on the same network. You can also use the Check compatibility tool on TracFone's website.
Are There Any TracFone Special Plans That Use Other Carriers
When it comes to plans, TracFone provides the most convenient online tool that allows you to enter your phone number or IMEI and the system provides you with a list of plans that are compatible with your device. You can check out this tool and thus select a plan that is compatible with your device at "tracfone.com/shop/plans".
TracFone offers a large number of different plans. Each plan comes with a different amount of minutes for talk, text messages, and data. Their plans are prepaid and generally affordable. The prices start at $9.99. As not all plans are compatible with all devices and carriers, make sure to check compatibility at the link above.
See More: What Phones Are Compatible With Tracfone
Pros and Cons of TracFone Towers Network
As TracFone has access to all four major networks; it can theoretically label as the best possible network in the country (along with other MVNOs that offer the same benefit). However, even the best things in life have their limitations. Check out the pros and cons of the TracFone network below.
PROS
TracFone runs on all four major networks and thus offers its consumers access to either one of them that best fits their location and device needs.
They offer nationwide reliable coverage, regardless of which of the four networks a consumer is connected to.
They offer both nationwide 4G and 5G coverage.
TracFone offers Verizon, AT&T, T-Mobile, and Sprint's network for much lower prices.
CONS
The cellular tower's owners have a natural advantage over their MVNOs. Their MVNOs may experience slower data, call interference, and other similar disruptions.
Because their network is provided by other carriers, they don't have a lot of control over it.
Limitations of TracFone Towers Coverage Which You Should Know
Being one of the very few MVNOs that offer their customers to access any one of the four major networks is indeed a huge advantage. It means that not only will their customers have access to the network that best fits their needs, but they will also have the best coverage for a cheaper price as they would at the original tower owners. As TracFone runs on all four networks, it basically offers the best coverage.
Nonetheless, there are certain limitations of TracFone coverage and network that you should probably know about.
TracFone doesn't own any of the towers it uses, therefore the owners of the networks may have better coverage, slightly higher data speeds, and better reception, particularly in times of congestion.
As even the four biggest and most dependable networks have unevenly distributed towers, none of them offers 100% coverage. As such, you may travel to less populated areas and experience poor or even no reception at all. In this case, you won't be able to make calls, send text messages, or use some other of the phone's features.
Regardless of the network you use, the actual coverage and reception depend on many conditions, including the device, network changes, network traffic volume, signal strength, network outages, technical limitations, the terrain, proximity to buildings, weather, and others. Conditions that can negatively influence your coverage may cause slower data speeds and call interference.
TracFone as an MVNO depends on other companies for the network. As such they don't have much influence over any issues and can't guarantee the accuracy of the network quality and coverage.
Process to Improve TracFone Cell Phone Reception
There are several convenient and simple methods that can improve your cell phone coverage. For one, you can move to an area where the coverage is verifiably good. However, as this one is a little extreme, let's explore some other options.
You can try upgrading to a newer device. Newer cell phones have far better reception than older models, mostly due to their advanced radio technology designed to pick up newer and faster spectrums.
Update your phone's software.
Turn off the services and apps you are not using.
Reset your network settings.
Manually re-select the network operator.
Go outside, move to higher ground, or close to a window. Open your window.
Use different construction materials, ones that block less signal.
Find out where the closest TracFone towers is located and move your device close to it.
Get a cell phone signal booster – a device designed to amplify a signal and distribute it.
Ask TracFone to switch you to another network. In comparison to other carriers and MVNOs, TracFone allows you to switch your network. However, if your device is not compatible with the carrier that has the best coverage in a certain area, you may have to buy another one.
Recommended Articles